본문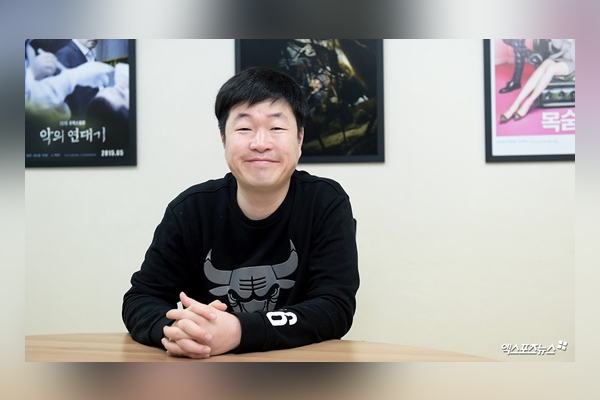 [New Year's Daring] Jang Won-seok, Representative, "Revolt of 'Cr…
작성일 | 18-07-09
Last year, movies of relatively small scale out of box-office success attracted audiences.

In particular, "crime city" (director Kang Yoon-gyu), which recorded a sensation similar to the movie "Taxi Driver," which surpassed 10 million in 2017, attracted 6.8 million viewers and gave the audience a refreshing glimpse.

In "crime city" where investment was not easy enough, B.A. Entertainment Chairman Jang Won-seok and Hong Pil-mung, co-producer, will come out of the world.

Jang Won-seok also met audiences with various films including director Jang Hang-joon's nine-year-old return to the screen this year and Baekbeom Kim Gu's youth, Kim Chang-soo. I met Jang Won-seok, who is expected to be busier this year than last year.

- The "crime city" cannot be left out of the box office of Korean movies in 2017.

I`m glad there were so many big, middle-class movies. In fact, the "crime city" is much better than expected. However, any piece of work is precious, regardless of its popularity. They are all like my children. The "crime city" was really good, and "Memory night" also broke the break-even point. Kim Chang-soo, however, was not as good as he thought. I don't want at least the first principles of my filmmaking to be harmed by those who invested in it, but I'm trying to introduce a system that is more responsible and less risk-taking this year."

- The "crime city" discovered not only Ma's passionate performance, but also the "silent" Jin Sun-gyu.

Ma is an actor who has been close to each other for more than 10 years. Being a character that is not in Korea seems to be the key to being loved. He works without a break. Do your best. There is no alternative actor. Jin recently won the Best Supporting Actor award at the Blue Dragon Film Awards. I was so happy. In fact, Jin was already a well-known actor in the movie industry. I could pass the audition without fail. Again, it was more than expected. From the time he saw the compilation, he seemed to stand out this time. Around him, the actor predicted that he would be absolutely fine."

- For 'Memory Night', he was with director Jang Hang-joon.

We have been close to each other for over 20 years. In my first movie, I was the youngest in the production department and Jang was a screenwriter. Since then, I have been close to my hometown and castle. Jang Hang-joon was also a case of bad luck because he was as talented as Kang Yoon-sung, director of the "crime city." I worked hard to prepare the movie, but I fell down several times. So Jang is giving up on his own. It was sad. I really miss director Jang Hang-joon. Then we finally got together. It was also a meaningful movie about IMF material. The greatest virtue of the Memories Night was that it contained meaning rather than fun or suspense. It was that the state was responsible for the damage that many people suffered because the state failed to function properly. In the future, the nation wanted to take such responsibility and make sure that nothing bad would happen to the people. In terms of box office success, it also exceeded its point of profit and loss and was also sold to Netflix. It is a matter of gratitude."

- Then, where do you think the secret to the success of mid-level films is?

We believe that there is a social framework for protecting the weak. The movie also has a close relationship. In this regard, the more successful the "crime city" was, the more cheering it was, and everyone felt moved after Jin was in the spotlight. Also, I think that middle-class movies have more box-office elements in terms of their effectiveness because they cost less than big ones."

- The problem with movies is that they cannot predict the audience's mind in advance.

So I try to study a lot. I also want to see many scenarios. I watch a lot of movies. Unsurprisingly, the filmmakers don't tend to watch movies. I try to see it with the general audience. I've been doing this for 22 years, but it's still difficult. So I want to share my opinion with many people around the interesting scenario that I read. I tend to listen a lot. Even when I go to a movie theater, I watch the reaction of the movie rather than watching it. They tend to analyze where there is laughter and where it is cheap."

.
.
.

Click on the link below to go to the article.